World Evil
From FragoriaWiki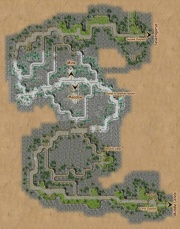 General
World Evil - a reoccurring event at the center of Caravan Way (0,0), on three days of the week - Tuesday, Thursday, and Friday, at 21:00 Server Time. If the bosses that appear are not killed by 24:00, they disappear. The bosses drop a loot, that goes to the leader of the winning team (or randomized if team loot mode is selected).
Bosses
All bosses have these common characteristics:
Level 75
70 000 000 HP
38 000 Damage (including armor absorption).
Absorbs 75% of incoming damage
Each of the bosses has a unique ability:
Tuesday - 21:00
Red Devil - Every 20-40 seconds, boss inflicts 35,000 to 60,000 AoE (Area of Effect) damage to all characters within 20 cells.
Thursday - 21:00
Dragon - Two abilities:
Every 40-60 seconds, boss has 50% chance to stun all targets within 20 cells, for 8 seconds.
Every 30-50 seconds, inflicts 6000 DoT (Damage Over Time) physical damage, for 20 seconds.
Friday - 21:00
Koshey - Every 60-90 seconds, boss reflects 200% of character damage.
Reward
Boss drops upon death:
Pet Jewels (1st Generation) x 30-60 pieces
Character Book Chest of skills level 80+ x 3-5 books
Purple resources x 45 pieces per stack
Collecting Loot
Loot is distributed based on the loot mode selected by group leader.
The group (if multiple groups are targeting the boss) that wins the loot is determined by efficiency: the group that has the character with the highest efficiency, and is aggressive towards the boss, will win.