Tanner
From FragoriaWiki

Tanner is the far most exciting and difficult profession of all. Its resources involve extracting them from dead animals rather collecting it from field resources.
Difficult profession because you need to kill monsters to gather them. Furthermore, the dropped resources are random. They do not drop in rotations. More to it, at Craftman stage of Tanner skill, the purple resources are gathered by killing strong lvl 35 bears in Carawan Way! These bears are stronger than usual lvl 35 monsters in Sea forest.
To get the profession
Approach
Tanner and Beastmaster
in Fragoville or Click on Select
New Skill
icon in the Character profile page under Skill tab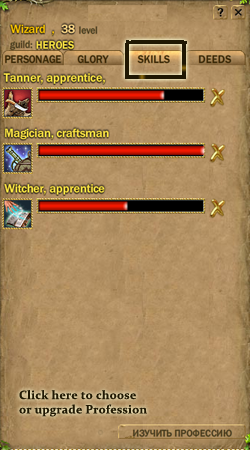 There are 4 stages of tanner profession's skill; starting with Trainee.
| Skill stages | Tanner NCP location | Collection Ability | How to advance |
| --- | --- | --- | --- |
| Trainee | Fragoville | Green tanner resources | Collection Green resources will increase skill till 25/25 |
| Apprentice | Fragotown at Artisans Country | Blue tanner resources | Collection Blue resources will increase skill till 50/50 |
| Handworker | Craftman Union Store, Fragotown | Gold tanner resources | Collection Gold will increase skill till 75/75 |
| Craftman | Frost Town | Purple resources | Collection Purple resources will increase skill to 99/99 |
Identifications
Master of Tanners and his belongings
Tanner and Beastmaster
Table
Tool

Ordinary
Tempered
Enchanted/Automatic
Tanners Resources
Tanner Resources
Thin Leather
Dense Leather
Hard Leather
Oak Leather
Dry Meat
Wiry Leather
Big Joint
Perfect Tenderloin
Discolored Fur
Worm Fur
Steel Fur
Crystal Fur
Raw Leather
Leather Sheet
Parchment
Vellun
Locations
Locations
Locations
Locations
Identifying Tanner's Mobs
While moving in different lands, the mini map will show marks of monsters that will drop Tanner resources. Obviously, the character will have to be Tanner to view them.

There is no relationship between monsters/mobs lvl and character lvl.
Each mob groups drop random resources.. ranging frm 0-3 drops/mob group
Carawan Way Bears that drop purple resources are lvl 35, stronger than usual 35 mobs..(so you need to have good armor with good pet to kill them)
Players with Golden Plan can see the location of resources of whole map