Groups
From FragoriaWiki
That it was easier to cope with difficult quests, characters can unite in groups. Large groups is especially useful to gather in order to explore the treasure vault.
That invite to another character in the group need to take it to the target, click on the portrait and select the list item "invite to group". If the other person agrees, the group is formed automatically.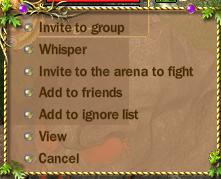 If the character is in another group, you can not invite him.

That leave to the group, just click on your avatar and click "Exit group".