2013 New Year Celebration
From FragoriaWiki
Duration: 19th December 2012 till 15th January 2013
The new year celebration event will give an opportunity to all fragorian to receive Battle Snake, a unique pet for the year 2013 with GR 9. During the process a battle rabbit can be found as well.
In order to receive the New Year gift, the player is required to complete a number of achievements that fall under the tab "Tam the snake". Upon completion, the "Battle snake" will appear in your backpack.


To get a New Year gift to you will have to complete a number of achievements. When completed will appear in your backpack Battle snake !
Get the Rabbit
In order to get the battle rabbit, the player needs to explode 10 different Christmas petards found in Year Year's gift

. The gift has to be received from friends via Post. The New Year's gift is sold in Shop gives different petards randomly.
10 specific petards needs be gathered and exploded.
10 petards that needed to be exploded
Feed the rabbits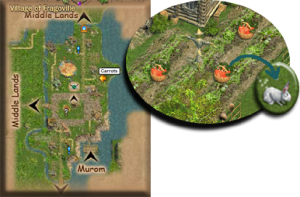 Feed carrots

to 100 rabbits

scattered in all land of fragoria. Carrots are present in baskets in fragoville.










Kill bosses (5 achievements)
Following Bosses in green caves needs to be killed in order to complete the achievements.
Banish Foxes
10 Foxes

scattered in fragorian land during the event. Feed them with cheese that is available in Fragoville. You will have to do them in 30 mins before the cheese disappears. Or else you will have to start over again the fox searching.
The fox will disappear after being fed and will not be visible for that character.
Kind Stranger
Receive 10 snowballs

from other players. Ask friends, strangers to give you snowball from Santa Claus standing in the centre of fragotown! The snowball has a timer of 30 mins, the process of gathering 10 snowballs has to be within 30 mins before they are deleted.
Note, snowballs you get yourself will not count! They must be from other players.
Become a dragon
The player needs to purchase the Star Dragon's Amulet

from Wallet using 75 purple signs. Keeping the amulet in the bag, will turn the player into an icy dragon in fragotown and fragoville. It will also help him pass the dragon in dragon cave during the event.
Release the black snake
The final quest under Take the snake needs to be done once the player has the amulet. The dragon cave is present in fragotown coordinates (37/87) and will allow the passing the New Year Dragon and free the snake out of the cage.